The world of an infant expands every day.
Our aim is to give your infant the comfort and security to explore at her own pace.
Our caregivers develop deep bonds with our infants, and our low ratio allows them to respond to every child's needs.
We strive to create an environment where the child is no more dependent on the adult than necessary. We want them to know that they have the power to create an effect even at a very early age.
For example, instead of having mobiles that require an adult to turn them on electronically or spin them, we use simple mobiles that will respond to a child's kicking or reaching. A single bell on the end of a ribbon shows the child that a sound is created when he/she touches it.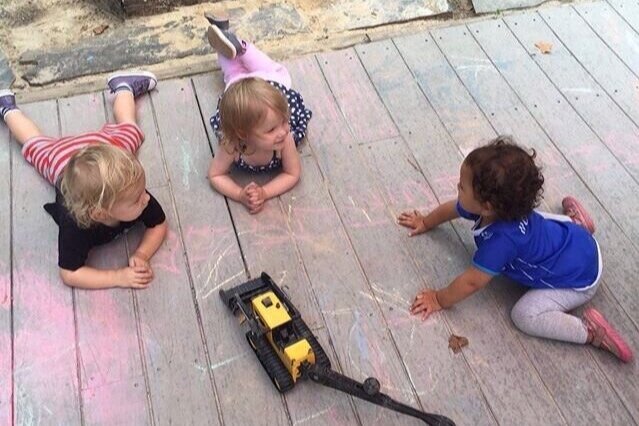 Children are encouraged to exercise their freedom of movement by moving towards objects placed near them, but just out of reach. As they begin to crawl, they can move about the space in any way they want. There are also ample opportunities to practice standing by pulling up on low, sturdy shelves, or on a bar attached to the wall. Infants are never placed in bouncy seats, swings, or any other implement that will constrain their movement.
Much of our time in the infant room is spent responding to the facial expressions and sounds of the infants. We place mirrors on the walls so they can interact with their own reflections.